Reflective No-Pull Dog Harness
Alert Drivers Of The Presence Of You And Your Fluffy Companion
Millions of dogs are killed on the road every year by drivers who were unable to see them. This reflective no-pull dog harness is an essential accessory for pet owners who walk their dogs in low-light conditions such as in the early morning or evening. The reflective stripes help provide visibility to drivers to ensure that your favorite pup can be seen from all directions in the dark.
No More Pulling, Choking, Or Stressful Walks
If you're sick of people saying, "It looks like that dog's taking you for a walk," it may be time to get this no-pull dog harness. Because this type of harness distributes the force across their chest, your dog is not vulnerable to pain or injury. A no-pull harness works by gently turning your dog's body toward you when they attempt to pull, making it virtually impossible for them to pull on the leash in any significant way. With this harness, you and your four-legged friend can enjoy more relaxed walks, and you will have far more control, keeping him safe from potential hazards.
Key Benefits:
Reflective stripes keep your dog safe and visibly in low-light conditions

Prevents pulling to ensure your pet remains comfortable on their walks

Easy to slip on/off so you and your furry friend can head outside without a hassle

Makes walks a lot less stressful knowing that your dog can't just wriggle out of a collar and take off running

Fits all breeds from 6lbs (3Kgs) up to 150lbs (75Kgs)
Click On The Add To Cart Above to Get Yours!
Due to high demand please allow 13 to 21 days + 2-3 days for processing.
Please refer to the size chart image below for correct item dimensions before you buy.

Product size
5 Sizes - XS/S/M/L/XL Please measure your dog's chest circumference at the same location as the line shown in picture.
Recommended by Top Veterinarians in the World
Using the Truelove No Pull Dog Harness instead of dog collar makes it easier to control & manage the dog. And they massively help in reducing respiratory problems & tracheal collapses.
With over 25k+ Truelove Dog Harness sold worldwide, why so many dog parents are choosing this harness over other harnesses or collars!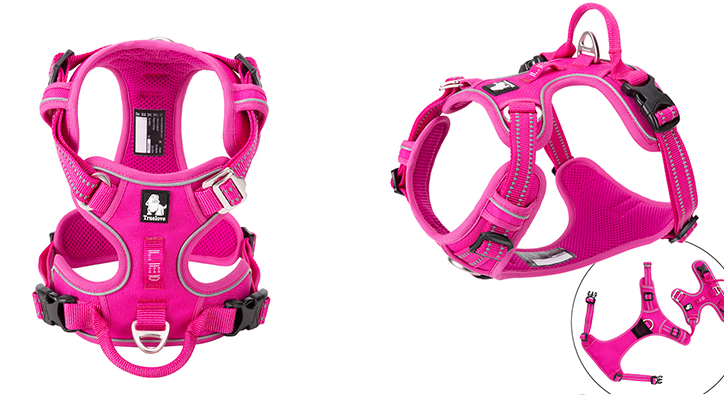 LOVE ME PAWS GUARANTEE
We Will Never Let You Down, Free Shipping with 30 Day No Fuzz Money Back Guarantee!  
We always bring you the best possible products in the world, and we back it up with our own No Fuzz 30 day money back guarantee. If you are not happy with your purchase we will do anything possible to ensure you are 100% satisfied.
If you have questions " Contact Us " if you need assistance.
FREE shipping to United States, Canada, Australia with an estimated delivery time of 10-25 days and up to 72 hours  processing time. For more information please visit our shipping policy page.

Click the ADD TO CART above to Get 40% OFF Today
Stocks are limited. Get it before it's gone.  You will also get 30 Day Money Back Guarantee.